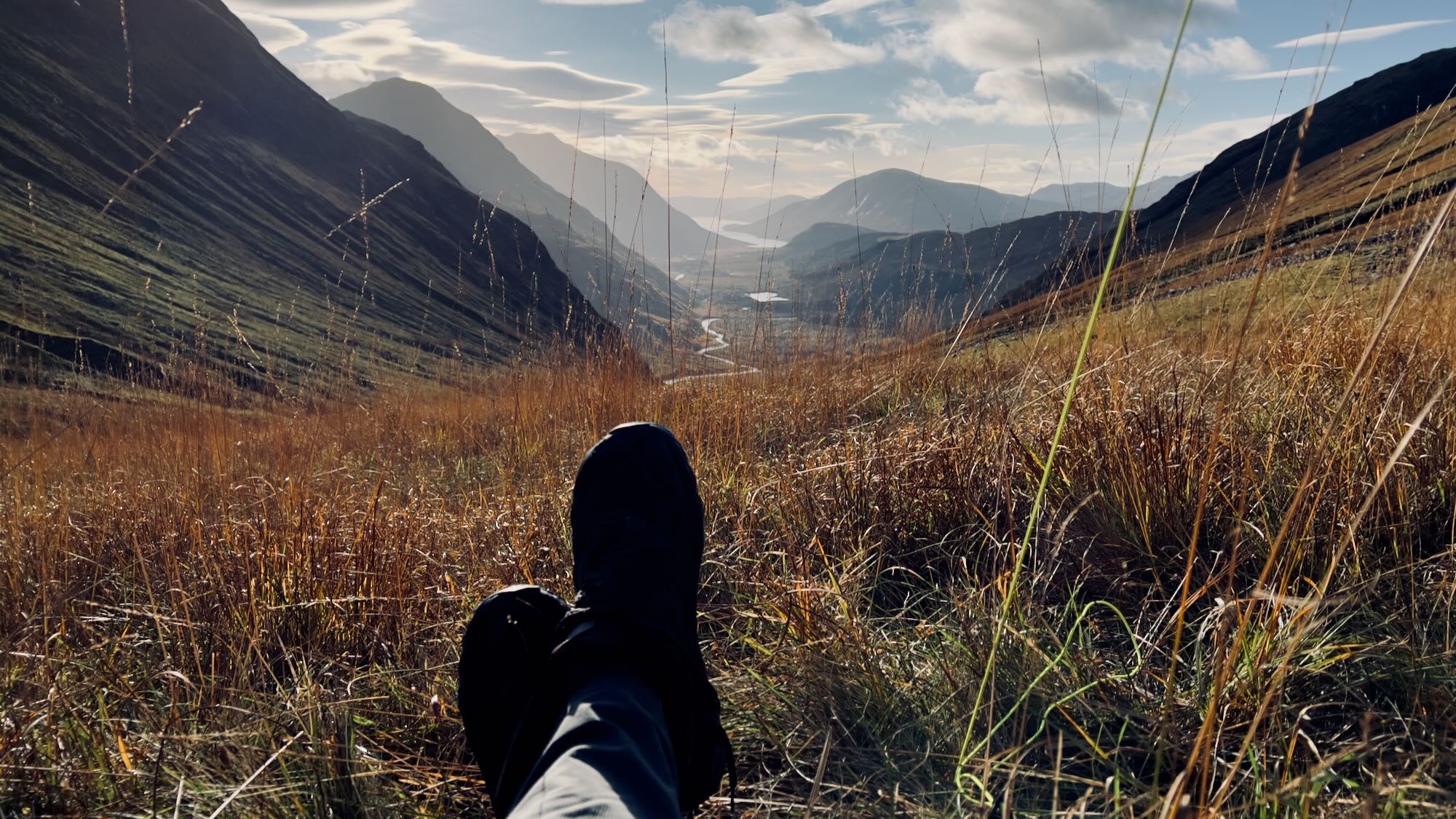 It is not often that I can pinpoint the moment when an app feature was born, but the Version Five update I just released for Pedometer++ has a specific birthday.
On November 4th, 2021 I was up in the Scottish Highlands doing a backpacking trip. While looking for a spot to sit and eat my lunch I happened upon this spot (56.633N, 4.965W) in the Lairig Gartain valley. The calm, surpassing beauty of this scene left me with a burning desire to get out into wilderness more.
For that trip I was using the OSMaps app for my mapping, which is fine. It did the job alright, I didn't get lost, but I found it incredibly awkward to use for the style of hiking I do and didn't work at all on the Apple Watch which made it cumbersome to use.
If I was going to spend more and more time in the wilderness I needed to find a better solution. A solution that suited my needs and made it easier for me to get out and explore.
So I began working on a mapping app for the Apple Watch and iPhone. This started life as a new app, wholly focused on helping me while I hike. But very quickly it became clear that this would actually work really well as an extension to Pedometer++. Which was already focused around walking activities and had Apple Watch based workout tracking.
Over the last year and a half I've worked on this concept and in the process pushed the boundaries of what you can do on iOS and watchOS. I didn't want a simple, static map I wanted a fully interactive, rich experience everywhere: on your Wrist, on your Lock screen, in your Dynamic Island, and on your iPhone.
Here is the result.
Introducing, Pedometer++ v5.0.
What's New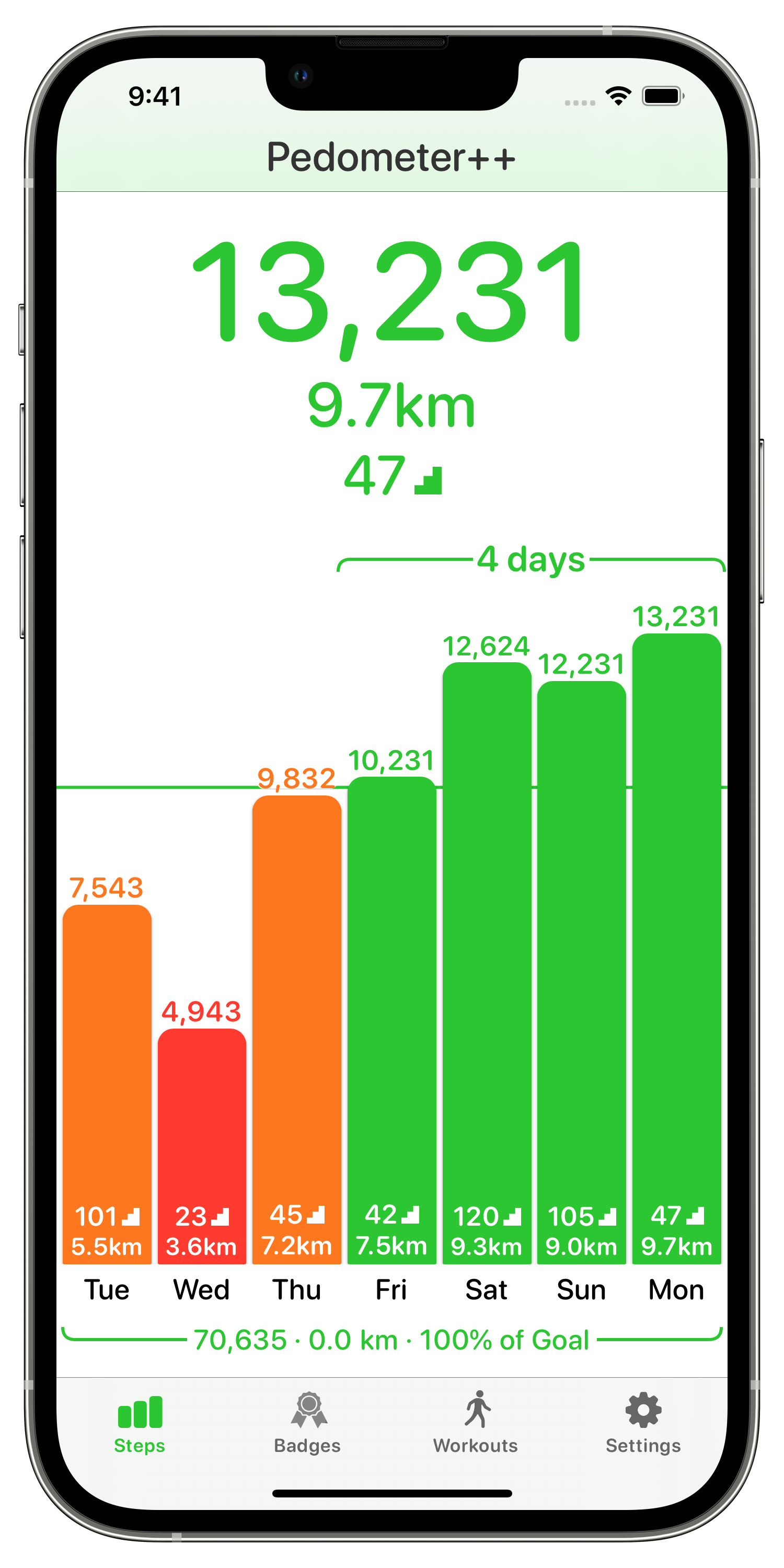 When you first launch this update you'll see a screen that will be immediately familiar to existing Pedometer++ users. The much loved bar graph view remains, but has has been updated to fully support Dynamic Type.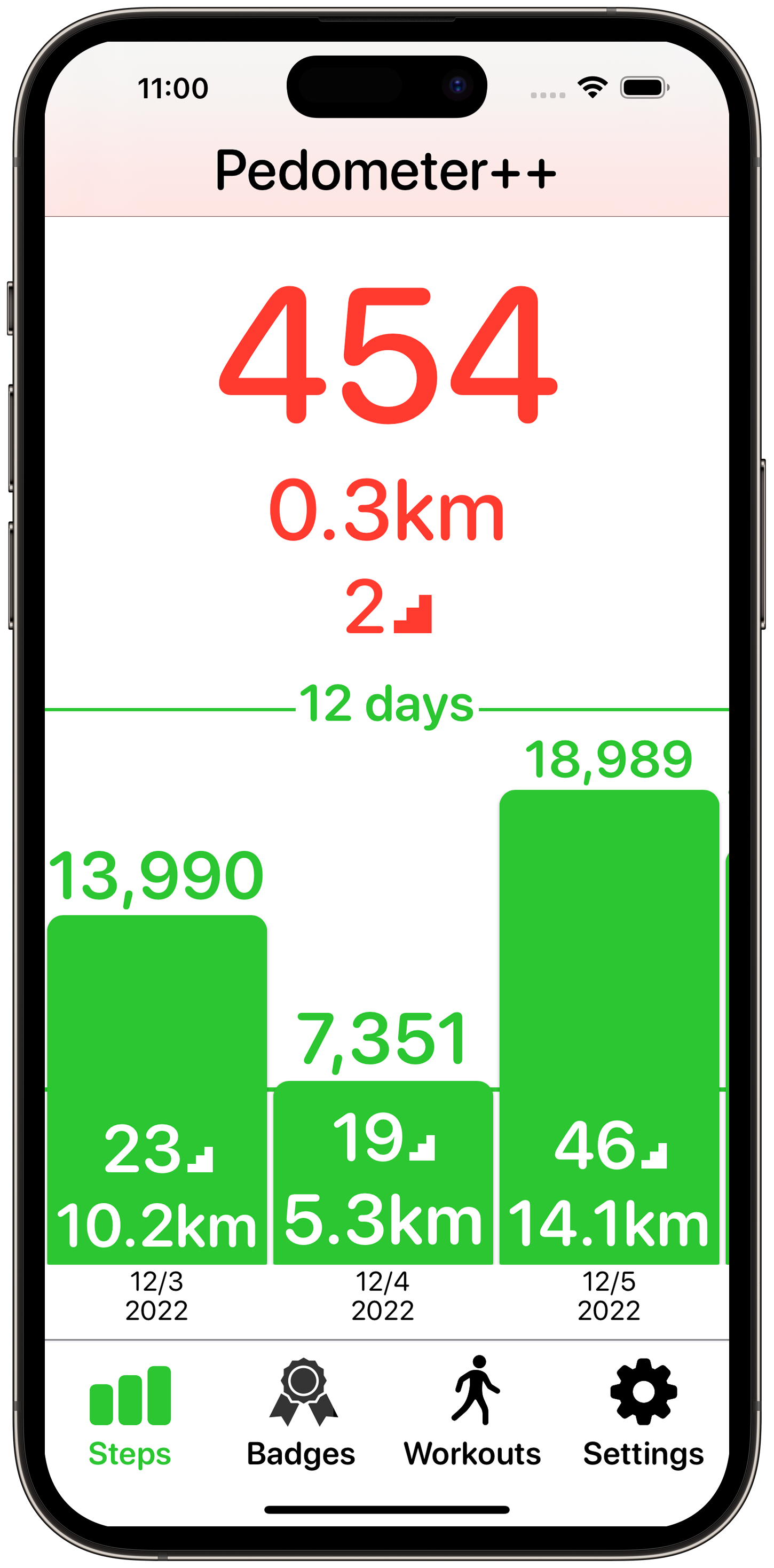 The app has been entirely re-written in SwiftUI. Which doesn't really affect the end users directly but will make my life way simpler going forward as I improve the app.
iPhone Workout Tracking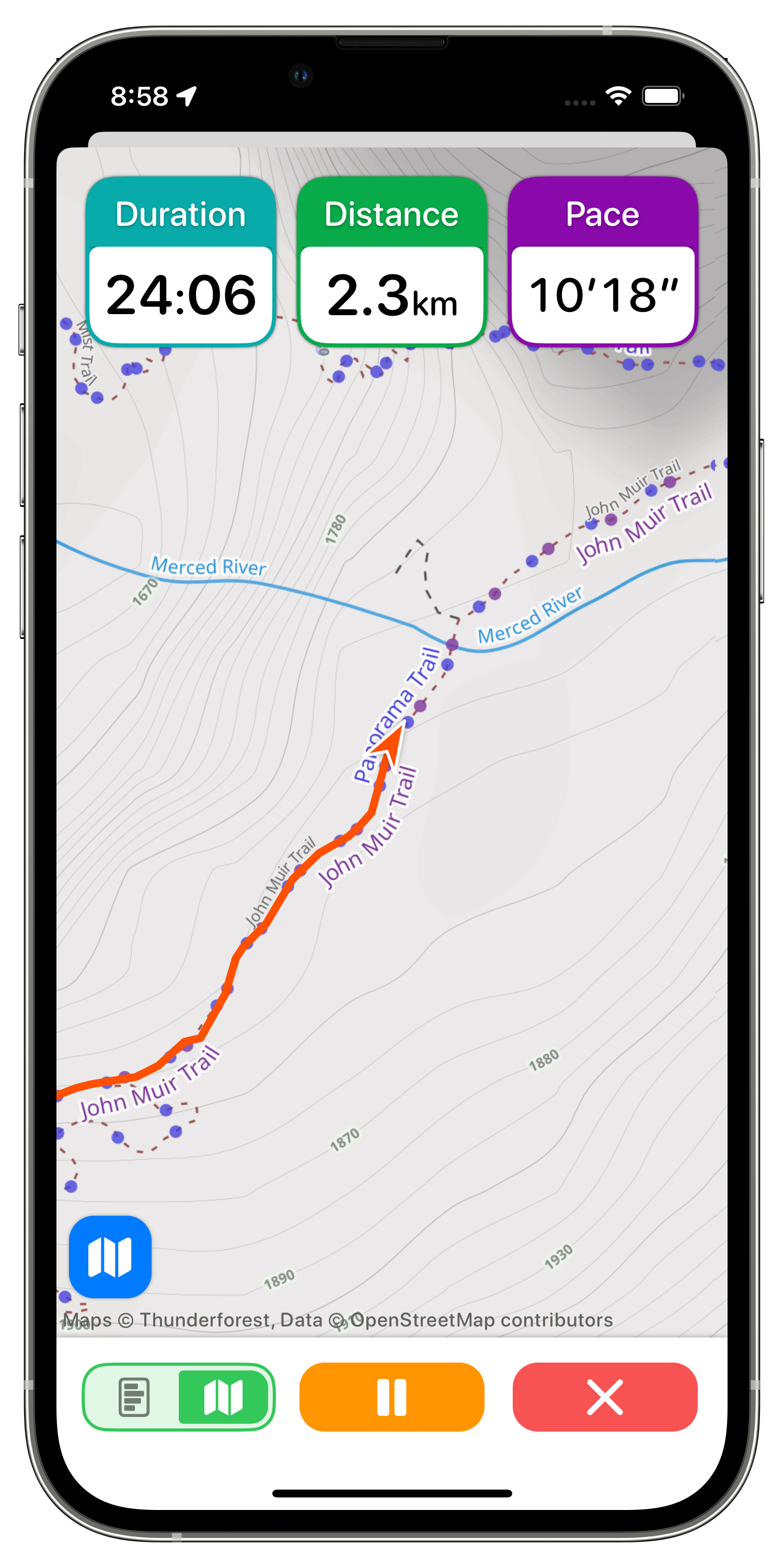 Pedometer++ has had workout tracking on the Apple Watch for a long time, but didn't have a way for users without a watch (~70%) to track their walks. So I've built out workout tracking now as a mode on the iPhone too. This lets you see your workout's duration, distance, speed and other metrics while you walk.
This gets especially fun with what is now possible with Live Activities.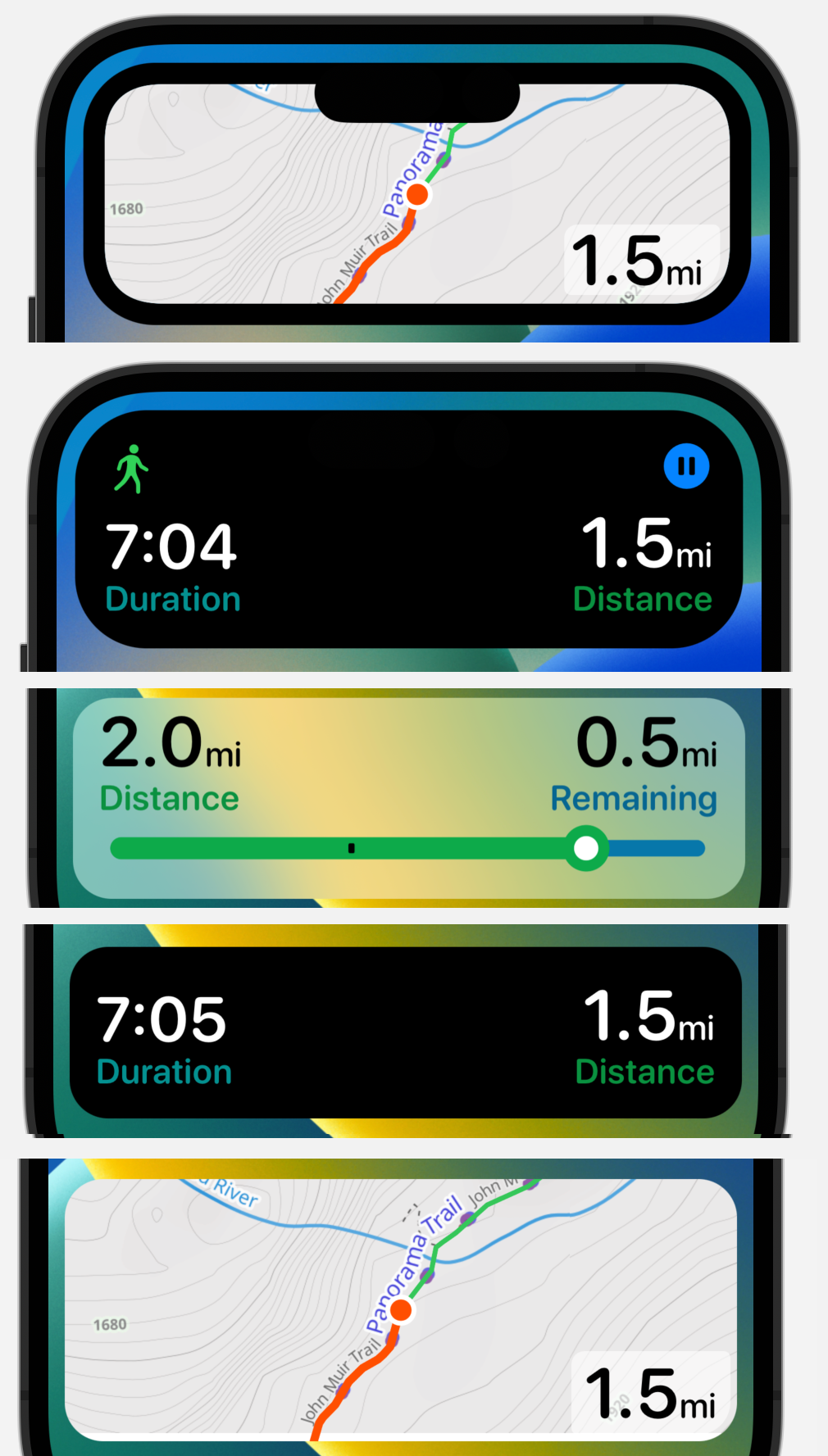 I've built out a wide array of user selectable live activity styles. These can show you a basic time and distance while you walk…or if you're feel adventurous you can even see a live updating map with your current route and location overlaid (even in the Dynamic Island!).
Route Management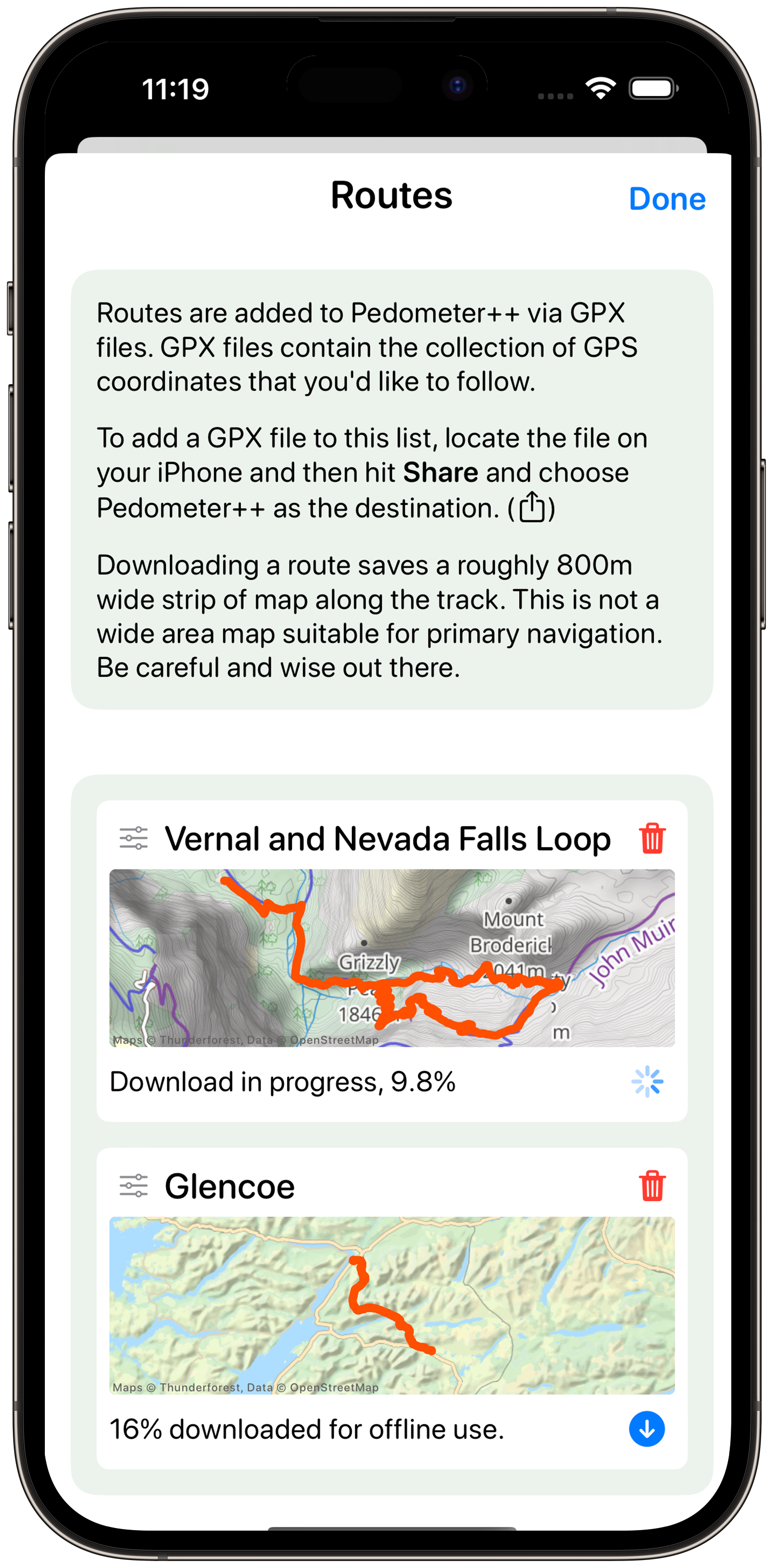 One of the key things about the way that I hike is a heavy reliance of GPX files for navigation. What I'll typically do is find or generate a GPX route file of the walk I intend to do and then seek to follow it as I go. While perhaps slightly counterintuitive I find this process highly freeing while I explore. Rather than constantly needing to have my head down to navigate I'm instead just doing occasional checks along the way and can keep my eyes up and on the terrain rather than my nose stuck in a map.
I have highly optimized the workout features in this update for this style of walking. You can either import GPX routes from external sources or promote previously completed walks to saved/favorite routes.
The associated mapping tiles for a particular route can be saved for offline access, so that when I get properly back in the wilderness I can still use the feature.
These routes sync to your Apple Watch for use there as well, with offline map tiles being shared between the Apple Watch and iPhone as long as they are connected.
Apple Watch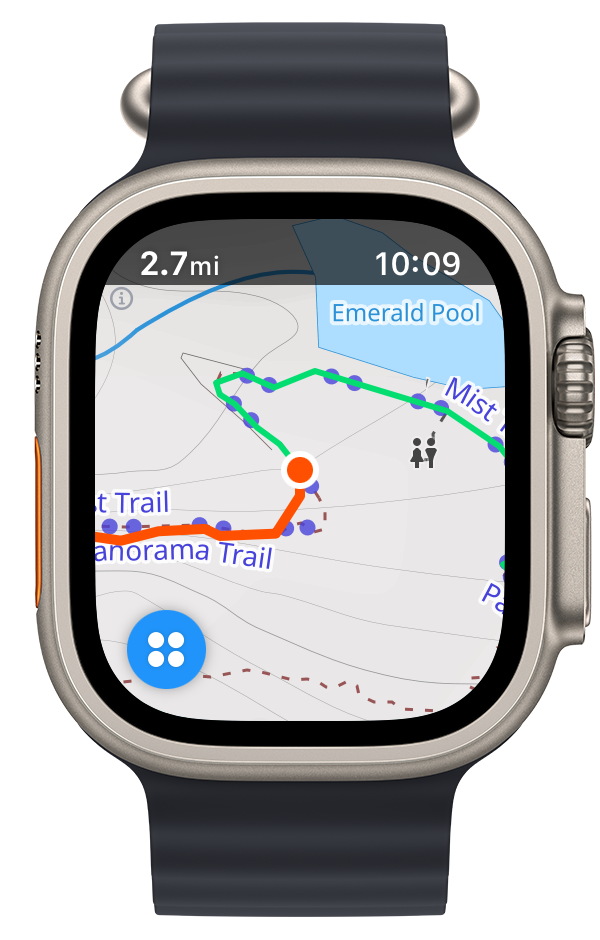 The major improvement that I was able to add to the Apple Watch is a new Map based workout mode. This displays a live map right on your wrist while you walk. I have found this to be extremely helpful for keeping in 'flow' while I hike. A quick glance down to my wrist when a reach a trail junction and I know where to go.
This even works with the Always-On Display showing a dimmed version of the map which will also update while you walk. So if you are using hiking poles and find the 'wake' gesture hard to do you won't have to flail around your wrists to see where you are.
This integrates with the Action Button on the Apple Watch Ultra for quickly starting workouts as well as swapping between the map and metrics views while you are working out.
Conclusions
There is a delightful freedom in building an app tailored for your own personal preferences. This app is perfect for how I hike. During its development I have enjoyed countless long hikes into nature and find that it is a worthy companion of those adventures.
While I am very hopeful that it will resonate with lots of other users, I made it for me. It helps me fan the flames of that passion for the Wilderness that was sparked back in the Highlands. I hope it can spark that in you too, whether you are exploring your local park or the backcountry, get out there and explore.