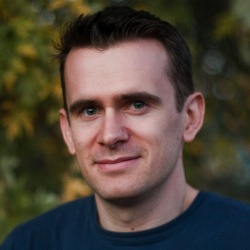 My name is David Smith. I'm an independent iOS developer based in Herndon, VA.
Since 2006, I have owned and operated a small company focusing on creating applications for the iPhone, iPad and Mac. My most successful apps include Feed Wrangler, My Recipe Book and Audiobooks. These, and my other apps, are all described in detail on my Apps page.
I'm a big fan of podcasts. My favorite shows are Accidental Tech Podcast, The Talk Show, Hello Internet, and Planet Money. I co-host a weekly podcast called Under the Radar discussing Apple related topics.
I spend most of my time each day in Xcode on my 27" Retina iMac. I type on a Microsoft Sculpt keyboard and prefer using a Razer Deathadder Black mouse. Usually listening to soundtracks or a podcast through a pair of Etymotic HF3 earbuds. When recording Under the Radar I use a Shure Beta 27. My text editor of choice is TextMate.
I'm an amateur coffee fanatic. My preferred brewing method involves an Aeropress and the 'Inverted Technique' (personal variation of this). My favorite bean is the Kenya AA from JB Peel.
My iPhone is rarely more than 6 feet from me twenty-four hours a day. While I own many iPads for testing and development, I find that in practice I use them very rarely. Instead, using my iPhone for almost all applications where the iPad would fit in.
You can find me online in the following places: